What First time Air Travelers Should Know


Boarding Passes: Boarding Passes will be checked before passengers are boarded stating takeoff and target destination as well as passengers name. The boarding passes could be more than one depending on how many connecting flights during the trip. It is important to keep them close and safe during the flight.

Passports: Some trips may involve going through more than one country before arriving at destination. It is important to have the Passport safely kept where it is easily accessible. Security issues during flight may warrant passenger passport checks. The passenger will need to provide an original passport at this time to clear himself or herself.  

Luggage: The expected luggage for check-in is maximum of 2 free 23kg boxes and 7kg hand luggage. Exceeding this weight is a violation of airline policy which can attract fine or sanctioning. Extra luggage to be checked-in will be paid for depending on cargo rate during that period. Not having a prior knowledge of expected baggage allowance can cause a passenger to loose some items and give them away at the airport as they may need to remove some items until the baggage allowance requirement is met. The allowances may vary based on airline operator and location.

Safety: Obeying safety rules during flight is very important. This includes wearing seat belts before take-off, during turbulent periods and before landing. This can help prevent an accident inside the plane.

Food: Some travelers may expect to be served normal home food when travelling on an international flight. It may not happen. They'll probably ask if chicken should be served of passenger is vegetarian. This will help inform the food to serve the passenger. They have fruit drinks, wine, beverages, Ice cream and others which will be served different times during the flight. One thing is sure, your hunger will be quenched enough food and snack are served during the flight. 


Seat Numbers: Seat numbers on plane can be tricky as the positions vary on different planes from airbus to Boeing. The numbers are not hidden. They are boldly written above the seat lines. The hostesses are also available to assist the passengers to their seats. The plane types are always written on boarding passes. The seat positions can be seen online to give you an idea of where you will seat on your trip. Some planes travel half full. Passengers can relocate to preferable seat spaces on the flight as long as it is not paid for and it is in the same cabin.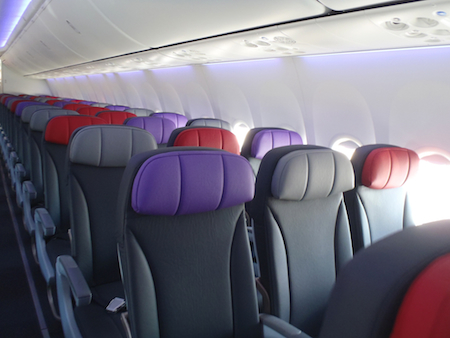 Good Attitude: Some people with bad attitude and questionable characters have caused planes to make emergency landing or abort take-off. Some people with temperaments fight with hostesses and threaten lawsuits. Some people are also caught sexually harassing people during flights. These questionable characters should be thrown off before boarding a plane so as to enjoy a smooth trip 

Exercise: Sitting down for a long time causes less lubrication of the nervous system which triggers muscle pull and some pains. It is therefore advised to stretch, change position or walk around sometimes during the flight.

Media Entertainment: Most Airline operators are conscious of the fact that long trips can become very boring and tiring when you have lost appetite for sleep and have nothing to look at except the ceiling and clouds. They went further to load their database with as much songs and movies that can serve you throughout the trip without repeating. Most of this new movies come in different categories ranging from drama, action, thriller, horror to documentaries. They consider their racial and cultural differences of their passengers who speak different languages and they made language change options available on the entertainment system. The Touch screens can be used for navigation. A side remote extension is also available for use.   


Hydration: Travelling on air causes dehydration. It is important to drink water and always keep small water bottles around. Staying hydrated is important for staying healthy and stable. Air hostesses come around from time to time asking if passengers need anything. Passengers can also request for water and they will bring it at no cost.

Lavatory: The lavatory is for urinating and passing out wastes from the body. It is mostly engaged along the trip since there are so many passengers travelling with few lavatories except for the First class or Business class cabin where there are Lavatories dedicated to serve fewer passengers. Water there can also be used to wash the face.

Turbulence: A first time traveler may thing the plane is about to drop from the sky when it passes through a storm. This is not the case as there will be lots of storms to experience during the journey. Having an understanding of turbulence to expect will reduce unnecessary tensions when they occur. The safety belt lights come on and pilots advice passengers to wear their belts during storms. This can send a wrong signal and send a passenger into panic mode but it is just part of the journey especially during harsh weather conditions or when there are heavy wind storms and lightening.    



Gadget Use: The use of Gadgets like Phones, Laptop and Tablets on the plane was allowed on conditional basis. This was on condition that the networks are turned off when the plane takes off. It can only be turned back on when planes are about landing. The pilots will always give instructions and announce through the radio and TV communication gadgets on the plane. It is displayed on the screen before all passengers and clearly announced through the aircraft speakers. In 2017 some countries were restricted from travelling with laptops and tablets as hand luggage or taking into the plane in any way.  This was a security. Measure to frustrate different strategies used by terrorists to get bombs and other weapons on board. Phones were still allowed after the ban.